Inner deburring equipment
Pipes inner deburring equipment consists of toolbar, adjusting device, and hydraulic unit. Of them,the toolbar is mainly composed of toolframe, impedor frame, connecting rod and so on.

The toolframe is equipped with knife ring, hydraulic support, knives vernier device. One toolframe can adapt to a large range of pipe inner diameters.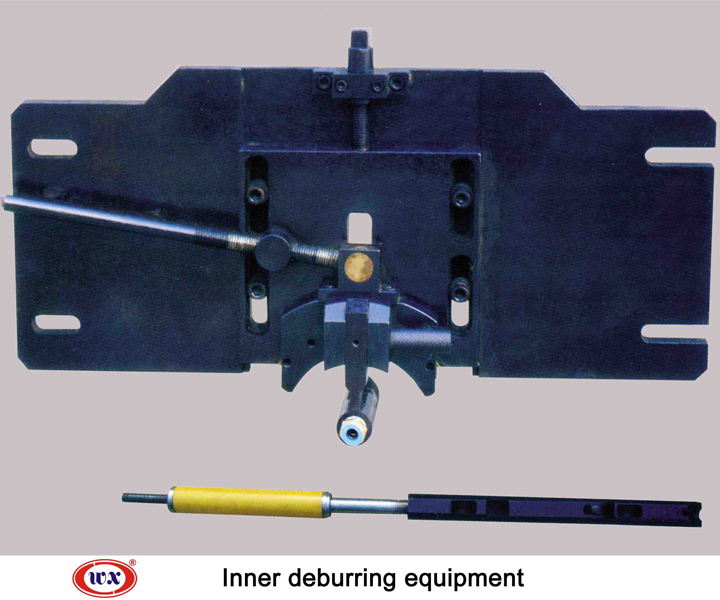 Features:
1. Both the shaft and cutter head are set at a proper angle to the pipe's internal surface. The cutter head is also properly sized in terms of inside diameter so that it better conforms to the curve of the pipe to create a nearly seamless internal surface.
2. The cutter head is essentially a circular knife made from hard alloy for excellent wear resistance. Unique circular design also facilitates the discharge of edge burrs.
3. Both the tool shaft and tool holder are made of high strength anti-magnetic stainless steel for minimized loss of electromagnetic energy during the weld cycle. They are also rigid enough to withstand pull and pressure.
4. The impedor is an important component that can be mounted outside the deburring machine, allowing for back-and-forth fine tuning. Compared to the previous welded installation, the new mounting method saves electricity.
5.From the mounting plate where the tool holder is installed, operators can adjust the position of the knife either in up-and-down or circular direction. Through this adjustment, it's easy to control the speed of the cutter, which in turn controls the range and result of the deburring operation.
6. Easy adjustment and installation.

» Uncoiler » Pinching and leveling machine » Shear end/welder
» Accumulator » Inner deburring equipment » Computer flying saw
» Hydraulic tester » Straightenning machine » Pipe end facing and chamfering machine